WHICH PACKAGE IS FOR ME?
Find The One That's Right For You…
Option 1…
1:1 Private Therapy Sessions
***You can either visit me at the clinic in Nottingham, or we can work together online if you prefer. Online therapy is a popular choice for clients from all over the world, and is a highly effective way of experiencing personal weight loss therapy***
Private therapy sessions are an intense (and very pleasurable!), personalised weight loss package, tailored for your unique needs. We will work closely together on resolving old food habits that are presently holding you back from successful weight loss.
Your personal relationship to food is unique, so your therapy will help you deal with those old issues that have held you back from succeeding in the past…they may be emotional, psychological or mental barriers.
Using these sessions to gently explore and uncover them will give you the clarity you need to release them and move on.
You'll be gently guided and supported every step of the way.
I'll take you step-by-step though a process that will jump-start your weight loss, and then carry on working for you right up to your own Unique Body Goal. The therapy will progress at a rate that feels comfortable for you…generally between 2 and 4 months, but you can take as long as you need.
During that time, we'll meet for 4 power therapy sessions that will each last a couple of hours. You'll also receive support contact too, and lots of encouragement and guidance, downloads, self help techniques and a framework set for your own pace.
The therapy process is often described as "intense, but in a very nice way!"
As you get complete individual attention, you can safely work on any issues you feel have held you back in the past. And we will turbo-charge your own motivation for future success into the process!
You'll quickly begin to experience what it feels like to be back in control of your food urges, and knocking out cravings will happen from the very first session.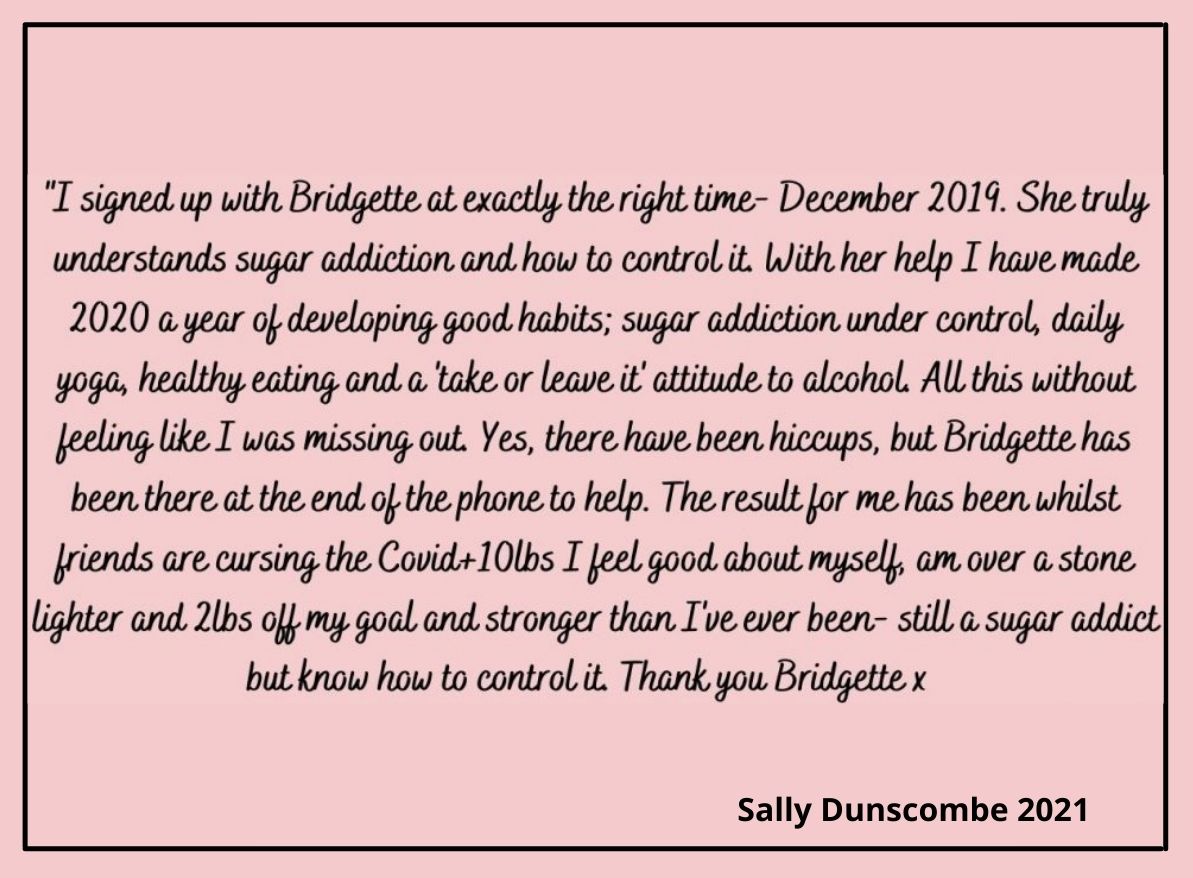 1:1 therapy is comprehensive, personal, and tailored to your unique needs…
With a wide range of techniques that cover all the trigger moments in your life. You'll have all you need to drop those pounds, including:
6-10 HOURS of powerful weight loss hypnotherapy, designed to support your individual needs
5 SELECTED downloads, carefully designed to complement the therapy sessions and support the changes you're experiencing
NUTRITION for weight loss…there is a way to drop the pounds without calorie counting
MEAL plans, tailored to fit in with your own unique lifestyle
EXPERT therapy and coaching from a very experienced practitioner
CONFIDENCE to make the right food choices in all the typical situations, such as workplace temptations, eating out, weddings, buffets etc
SELF-HELP techniques for targeted, rapid intervention
SUPPORT, guidance and lots of understanding, so you quickly get familiar and comfortable with the techniques
MEMBERSHIP to a friendly, thriving on-line group
FREE automatic life-long membership to an on-line programme worth £370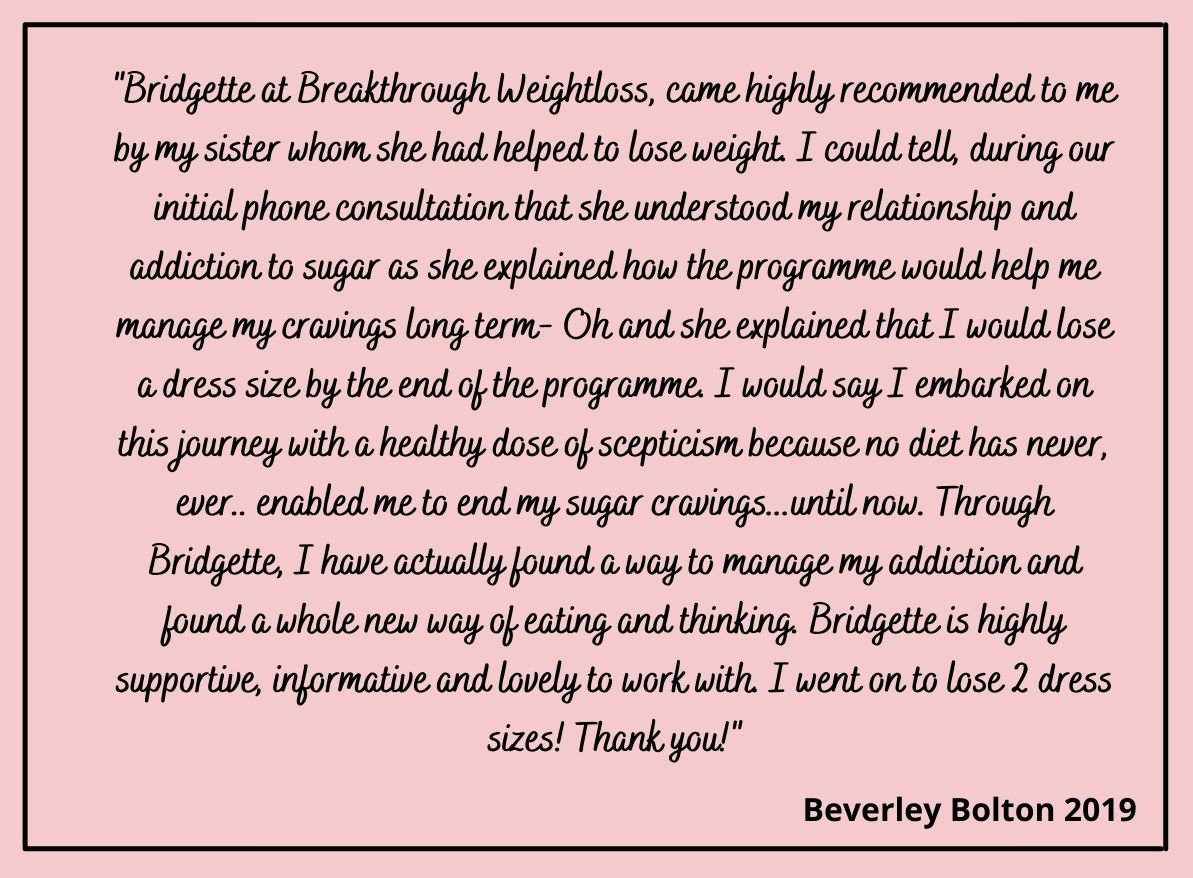 In short, you'll have all the help you need. Each session is only £325, is choc full of resources and a small deposit secures the whole weight loss programme for you 🙂
If you'd like longer term 1:1 therapy help, then there are packages available for you. Contact me for more details.
---
"It is amazing. I can't recommend Bridgette highly enough!"
Kathryn Bell Chambers-Wilson
---
Option 3…
Get the best of both worlds-
Begin your weight loss journey with a tailored, personal 2 hour weight loss therapy session with me-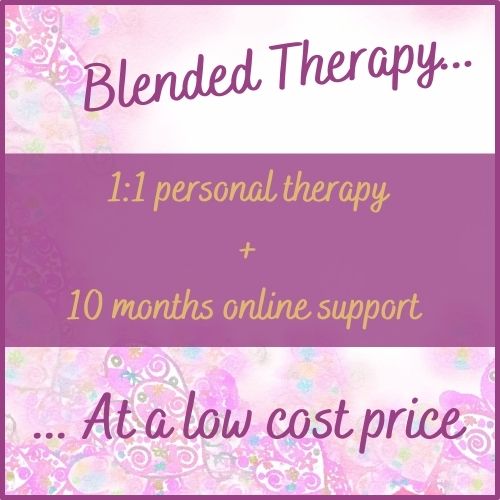 Design a detailed, personalised weight loss plan, that will be easy to follow, and created for your unique lifestyle needs
Work on old issues that have held you back from successfully losing weight in the past
Access the weight loss therapy my personal clients have been using to successfully lose weight for last decade
Enjoy a deeply transformational hypnotherapy session, that will set you on the path to your Unique Body Goal
After the Kick-Start personal session, you can then join the 10 month online programme to keep you supported, motivated and full of inspiration. You'll have regular, monthly therapy sessions with me,  to help you stay firmly on-track as you move towards your goal.
Blended therapy is the most popular way for clients to get the best of both worlds with me, and the price is only £395 for the therapy session + £37 per month for the online programme.
---
Once you've finished the 10 months of therapy on the programme, (which is how long the average member takes to drop 3 dress sizes), you get to keep everything for life.
---
That's over 20 pre-recorded hypnotherapy downloads. More than 50 videos. Weight loss therapy at it's best. Strategies for turbo charging weight loss. And, most importantly, and month of techniques to maintain your target weight.
There are lots more resources waiting for you to take advantage of, as the extensive programme contains everything you'll ever need.
Click below to get in touch or call me on 07813 462589, for a no obligation chat about your weight loss.
More Previous Happy Clients!
"Bridgette is amazing I couldn't lose weight without her, I've tried everything from slimming world, weight watchers etc and can never stick to it or maintain I always gave up and felt I was missing out… I would highly recommend anybody struggling to lose weight to go and see her, Bridgette changes the way you think so you feel like your not dieting and your not missing out on anything the foods you usually crave and want so much, you don't anymore Bridgette really is a miracle worker!!!"
Jessica Neil
"I have learned to get off the sugar wagon again and feel much better. Have struggled to stay low carb when eating away from home. Ok in restaurants but more difficult with family because husband is a stodgy veggie and they cater to his likes. That said, it has brought things into focus and I have more respect for myself and my body now. I realise that I cannot drink coffee because not only does it stop me sleeping, it definitely makes me crave rubbish food. It's the same with carbs. I am a very low carb girl, when I give myself the chance! It has been a fantastic few weeks, Bridgette, thank you."
Mandy DADS
*Weight loss therapy is a very personal journey, and yours will be different from anyone else's. Because of this results vary from person to person.
Get in touch for more information…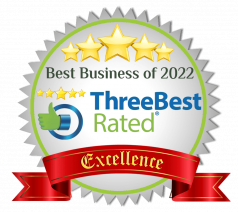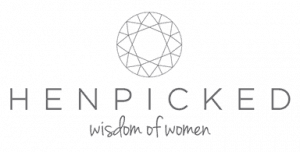 *Weight loss therapy is a very personal journey, and your results will vary according to your needs. This programme in no way replaces medical advice.