21st Century Weight Loss Therapy For You…
Banish Food Cravings &

Break Free From
The Diet Trap
The BWL programme is unique. Its mission is to generate sustainable, stress-free weight loss.
No Gimmicks. No Pills. No Fads. Just An Easy To Follow System, That's Designed For Sustainable Success
Hypnotherapy is a gentle, non-invasive clinical process that unlocks the power to change.
Discover a more positive mindset,
lift cravings, elevate confidence, and clean up old, unwanted eating habits.
Read how it works here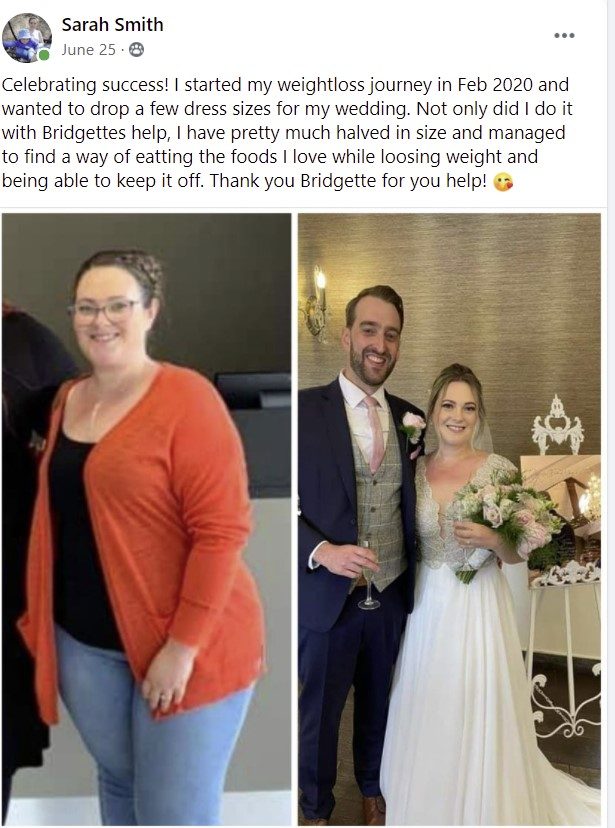 Combine hypnotherapy & targeted nutrition with a wide range of strategies to manage everyday trigger situations.
Add techniques to manage compulsive eating- whilst taking out the emotional stress of endless dieting.
Then you'll discover a comprehensive approach that covers all the key areas needed for sustainable, long term weight loss.
If you're…
SICK

of being on a diet

STUCK

in a cycle of yo-yo dieting

READY

to try something different this time
It's time to drop the old 'diet & denial' mindset…
The BWL Programme has helped people all over the world. Dropping pounds without the emotional and physical stress of being on a calorie-controlled diet, and then moving on.
Read the testimonials and personal stories around the website:
It's a comprehensive approach of nutrition, combined with a change in mindset that fits in with your lifestyle, to ensure a sustainable approach to your success.
Click below to email me and find out how you can start your own weight loss journey today…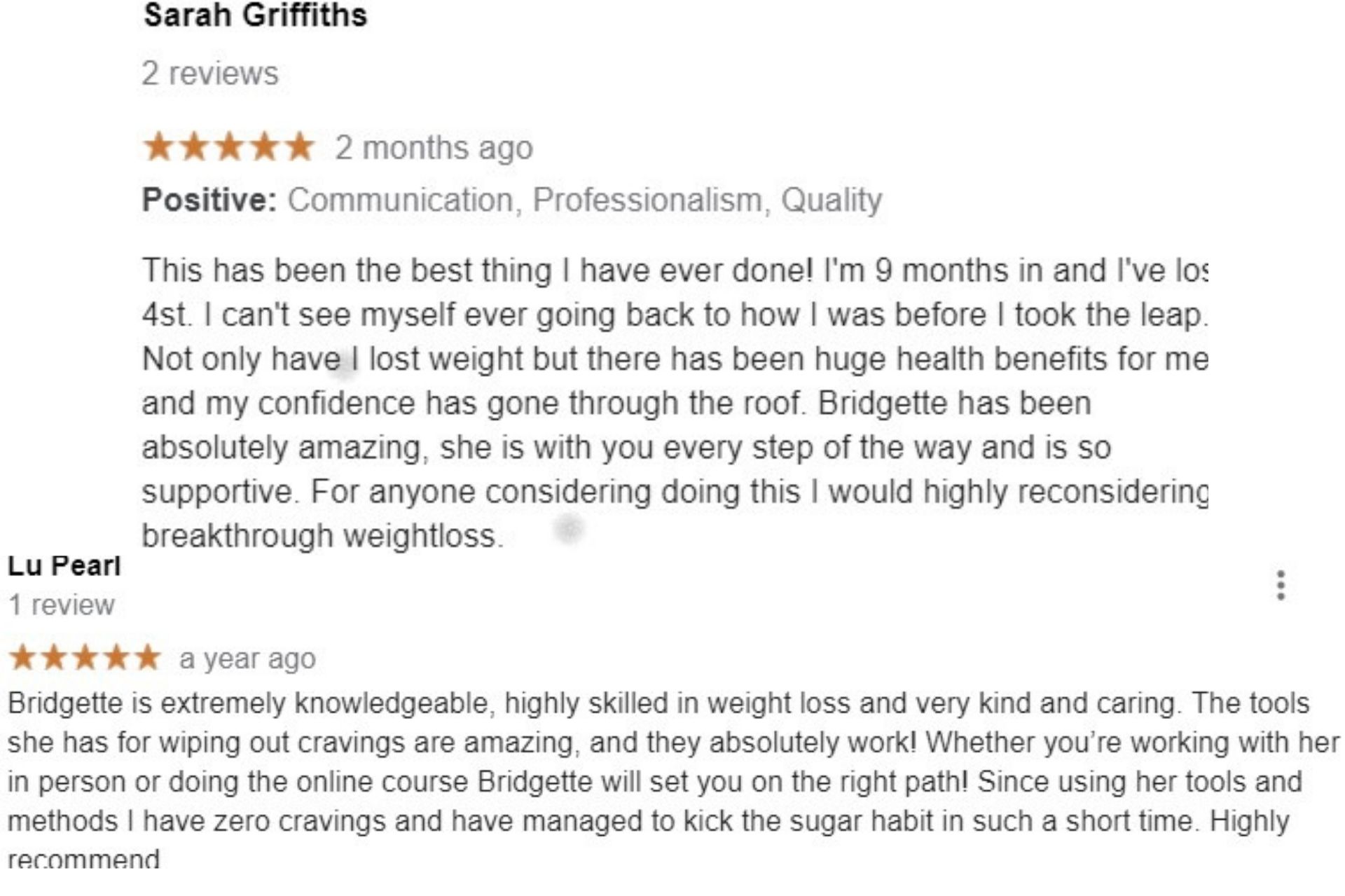 Once we change how we feel about the sugar and processed foods, control happens. Until then we keep falling back into old self-sabotaging behaviours whenever we're stressed or emotional.
To feel what life can be like without cravings is my mission for you.
If you know that calorie counting just isn't working any more, then click below to find out how I can help with the award winning therapy programme…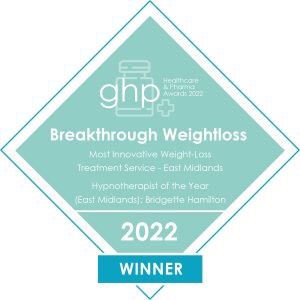 Option 1
Online Results…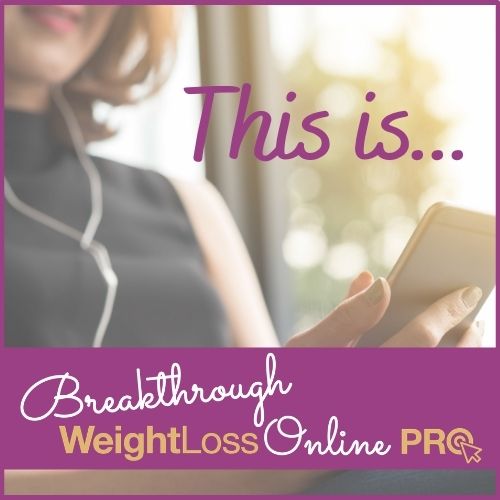 *More feedback from previous Breakthrough WeightLossers…
"I am really pleased with myself up to now in regards to chocolate! Never in my wildest dreams could I have imagined me refusing and not wanting to eat it, nothing short of a miracle. Thank you!"

"The most important difference has been that it has actually changed the way I think about food. I even went on holiday and did not put on any weight and have only put on 2lbs over Christmas. So I would say to anyone thinking about losing weight, give this programme a go – you have nothing to lose but weight!"

"One month sugar free and a dress size down!! Would never have believed it myself but this really does work. Forget stupid diets you need to talk to Bridgette Hamilton!"

"I haven't eaten cakes or sweets since. You're a legend!!"

"I keep expecting to go back to the way I used to eat, and it's just not happening....amazing!"

"All I can say is WOW!!!! I really can't believe the impact. I am looking forward to losing more weight whilst eating 'normal'"

"  "I think the reason you have succeeded where others had failed in the past is as much to do with you as a person and the way you are as much as what you do. Your techniques and choice of words were always measured, considerate and personal. My life has changed considerably and all for the better. If I feel myself struggle, I listen to your recordings and they get me back on track."

"I'm just loving Bridgette's Breakthrough Weightloss programme. I'm losing weight and I feel better in myself too. If you're a serial dieter like me give this a go and see if it works for you too. Highly recommended."

"I did Bridgette's 28 day challenge and the materials, support and explanations Bridgette gave were excellent! I felt I understood exactly what I needed to do. The best thing of all - even better than losing half a stone - is that I genuinely haven't craved -or eaten - sugar during the whole 4 weeks. Give it a go!"

"The  drop a dress size challenge worked a treat for me - Bridgette's input and having the structure and support of the group for twenty eight days meant that I could start a new food regime and stick to it in a way that I haven't managed to do on my own. Highly recommend."

"Bridgette is so knowledgeable about nutrition and the best way to eat to get your body into optimal health. I can highly recommend her Drop a Dress Size programme. If you want to get off the diet and really enjoy your food you need her in your life."

"Another awesome session with Bridgette. This woman is a legendary xx thank you pretty lady."

"I fully recommend Breakthrough Weightloss - I lost weight and more importantly kept it off, easily and without effort. Thank you Bridgette!"

"Bridgette is so understanding and really puts you at ease. Completely recommend breakthrough weight loss! Easiest way to loose weight and be healthy without even thinking about it. You won't regret it"

"I've done both the Kick the a sugar programme and Drop a Dress size programmes with Bridgette. If you think or know you have a sugar addiction then I can absolutely recommend these programmes to you. Bridgette really cares about the clients she works with and shares tools, techniques and hypnotherapy sessions to help everyone succeed. Highly recommended."

"Since August I've been working with Bridgette at Breakthrough Weight loss. Over all I've lost 2 stone, dropped from a 22 to a 16 and feel brilliant. The pain in my knees is reduced, I'm able to exercise and interestingly the chronic anaemia is better and my skin and eyes are less dry. I eat well and enjoy food but am not able to overeat anymore. in overall I look and feel better than I have done in years. Thank you Bridgette!"

"If you are thinking of joining Bridgette's weight loss programme – just do it!  I knew I was addicted to sugar 2 months ago and I now know how to deal with the cravings and have eaten no sugar for 2 months.  Yes, I have lost a stone in 8 weeks, but more importantly my mood has lifted and I have got back my energy (as well as my favourite skinny jeans!).  Bridgette is very supportive and non-judgemental.  The hypnotherapy is so relaxing and has been the highlight of my Saturday mornings!  I can't recommend her highly enough – she has changed my way of eating forever!

 Amanda Harris"

I just attended Bridgette's Kick the Sugar habit day and I would strongly recommend it. Having undertaken nutritional training many years ago I still learned valuable information from Bridgette - delivered in a fun easily accessible way. I tried her method as a short experiment a few months ago and lost a stone in 6 weeks. Chris Ford"

"I can not recommend Bridgette and breakthrough weightloss enough. My life has completely changed in the last 6 weeks not only have I lost 12lb and dropped a dress size I also have alot more energy, clearer skin and a more positive outlook. Debbie Foote"

"Bridgette at Breakthrough Weightloss, came highly recommended to me by my sister whom she had helped to lose weight. I could tell, during our initial phone consultation that she understood my relationship and addiction to sugar as she explained how the programme would help me manage my cravings long term- Oh and she explained that I would lose a dress size by the end of the programme. I would say I embarked on this journey with a healthy dose of scepticism because no diet has never, ever.. enabled me to end my sugar cravings...until now. Through Bridgette, I have actually found a way to manage my addiction and found a whole new way of eating and thinking. Bridgette is highly supportive, informative and lovely to work with. I went on to lose 2 dress sizes! Thank you! Beverley Bolton"
This Little Book Will shine a light on your cravings…
Guiding you through the simple 7 Step Weight Loss System
These same steps have been used to get results for clients and group members for over a decade.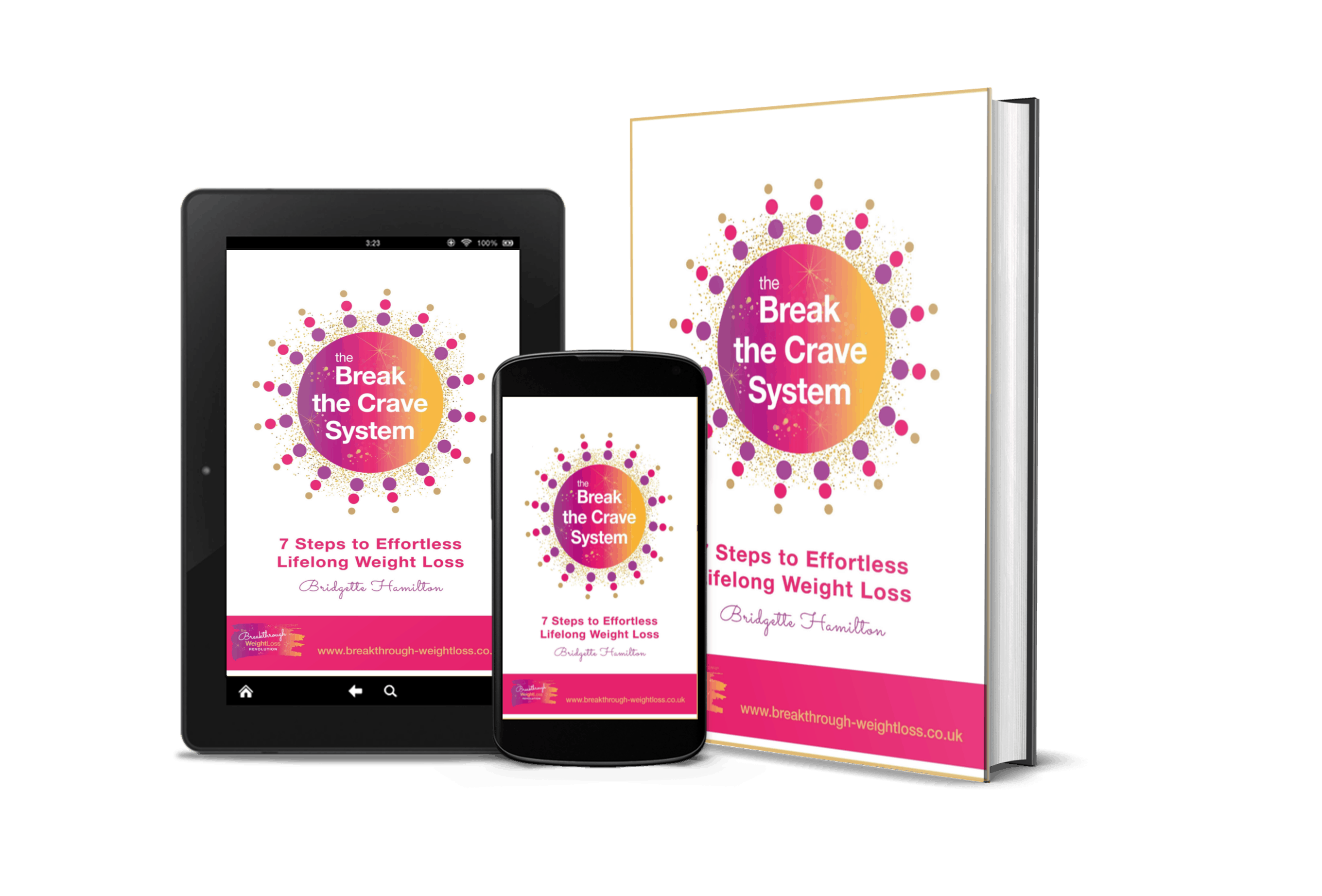 *Some of the Amazon reviews:
"Thank Bridgette for a no-nonsense, easy to read and understand guide on shushing the CRAVE. I've just finished my first read through and will be going back over it again."

"I loved this book! Having met Bridgette networking and having a little knowledge about her system I was fascinated to learn more. I know feel well equipped to explore kicking sugar! She writes in such a wonderful style it's just like she's sitting having a chat with you, really easy reading and so interesting."

"100% recomend this! I was lost , in a cycle of the conventional diet prisons. Bridgette Hamilton has set me free and I've lost the weight that's held me down. Be prepared to have your eyes opened. Purchase this book and set yourself free."

"Revolutionary! Bridgette's brilliant style keeps you interested and informed. it makes perfect sense. Her passion is contagious. Love this."

"Wow, this book opened my eyes! I didn't realise that I was a sugar addict, but there it is in black and white. Full of good information and it's like sitting next to Bridgette whilst she talks to you. Written in a no nonsense way. Thanks Bridgette."
---
Try the hypnotherapy for yourself. Use the FREE download at the bottom of this page to feel those changes begin to happen.
---
Break The Yo-Yo Diet…
I know that it's only weight loss, but I also know how much it matters to you.
You are entitled to feel free from the horrible feeling of endlessly striving to lose weight, so you can just get on with your life.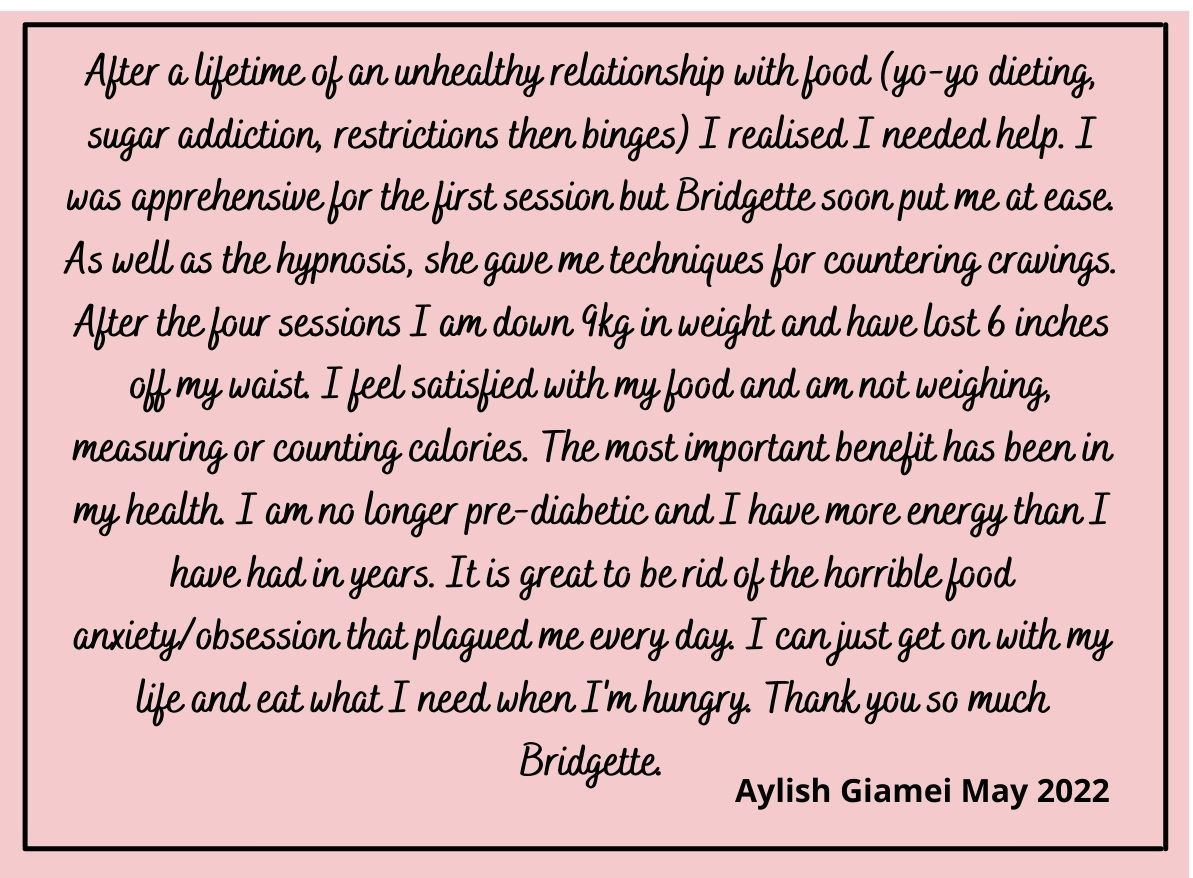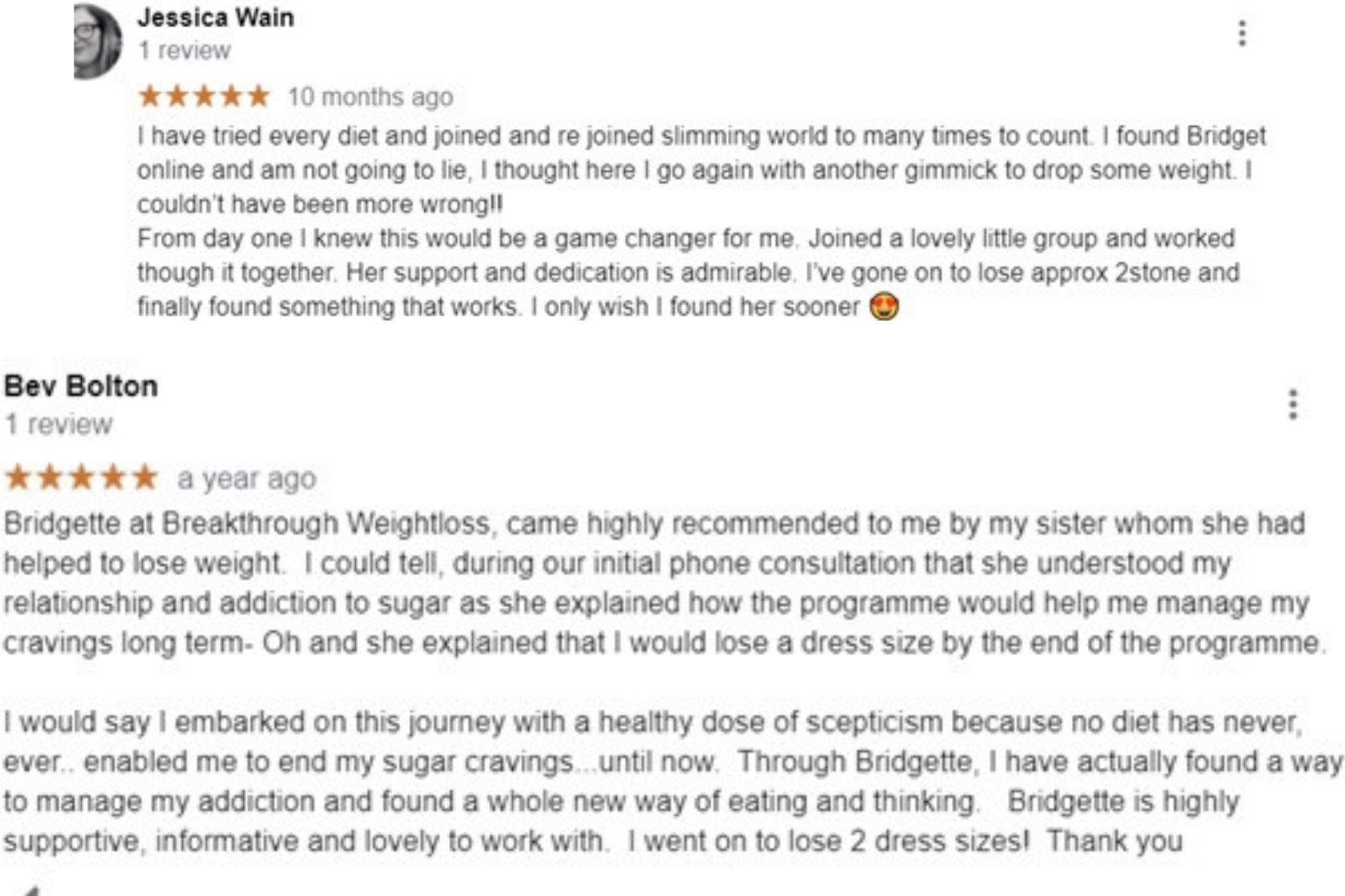 We're the midland's leading Weight Loss Hypnotherapy Clinic, but you can find us on-line too.

It's lovely to have been given the Business Excellence award for Weight Loss Hypnotherapy Clinics in the Midlands for 3 years running.
Just so's you know my credentials…I'm a Senior Associate Member of the Royal Society of Medicine, a member of the Complementary and Natural Health Council, the Complementary Therapist's Association, and the General Hypnotherapy Register.
I'm also an Ambassador for the Public Health Collaboration, and an experienced, qualified, insured and registered clinical hypnotherapist. I also trained in nutrition and diet over 25 years ago now. You're in safe hands!
*Weight loss therapy is a very personal journey, and yours will be different from anyone else's. This programme in no way replaces medical advice.